EZE Breeze Cabana Door
Imagine, a Cabana Door without compromises.  EZE-Breeze has exceeded the industry standard with this heavy-duty aluminum door and complemented it with the beautiful style of the EZE-Breeze windows.  Pre-hung for easy install on heavy-duty hinges and comes with a Z-bar or equal leg frame.  Choose from two standard styles or customize one to suit your new outdoor space.
The EZE-Breeze cabana door has the same options as the EZE-Breeze windows.  you can choose frame color, vinyl tint, and screen options.
The standard size EZE-Breeeze cabana door is 36 inches wide by 80 inches tall.  They can be custom sized smaller for no additional cost or custom sized larger for a small additional cost.
There are two styles of EZE-Breeze Cabana Doors:
VERTICAL 4-TRACK STYLE
Innovative Z-bar frame, which easily converts to an equal leg frame, designed to work in any opening
Standard 14 1/4″ kick plate or customize the kick plate size to meet your needs (maybe for a dog door)
In-Swing or Out-Swing
Single or double door
4-Track frame is factory rolled with standard screen or optional BetterVue Screen (additional cost)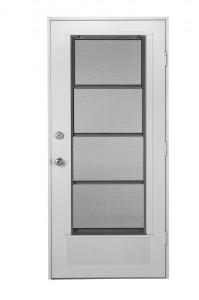 FIXED LITE STYLE
Standard 4 3/4″ kick plate or customize the kick plate size to meet your needs
In-Swing or Out-Swing
Single or double door
No screen