Hybrid Porch Enclosures
HYBRID PORCH ENCLOSURES: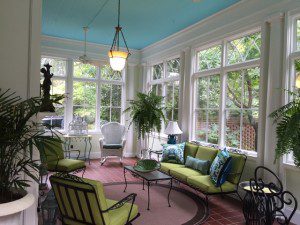 Extend your Outdoor Living from ONE season to FOUR SEASONS by converting your present screened porch into a beautiful year round porch enclosure from Architectural Glass!  Porch enclosures have become very popular in the past few years because the floor and ceiling is already there, simply glass in the walls to create a space that can be used year round.  By utilizing vinyl sliding windows and high performance glass we can create a porch conversion to change your existing screened porch into additional living space.  Everything is custom made to maximize the glass viewing space, without the custom price.
Project Gallery
Do you have an existing roof and floor?
Well then you're halfway there!!
Your new living space is designed by our professionals to include a combination of sliding windows with screens, glass or solid kick panels and optional glass transoms for extra light. These porch conversions can be heated or cooled economically with the use of a modern heat pump unit or by extending your existing heating and cooling. Optional electrical, TV and phone outlets are also included as options to make your space as useful as possible.
Different window options (Double Hung, Casement, Sliding)
Creates a permanent year-round living space
Colors are white and tan
Fast installation
Insulated Lo-E high performance glass