Screen Rooms & Patio Covers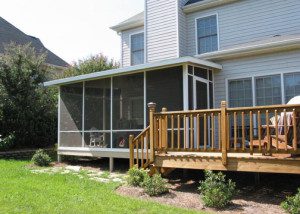 Need a bright, maintenance-free screen room to escape to without the fear of being bothered by insects? We provide a full quality screen room which features a 2 x 3 aluminum frame, which is available in 5 colors, full screen or screen with insulated kick panel.
Project Gallery
Our screen rooms use a standard 3″ or 4.25″ insulated roof with optional gutter and downspouts. With the insulated roof, it is easy to convert your screen room to a Four Seasons glass room at anytime for year round use. Our screen rooms are superior to our competitors' products and create a nice cool environment during hot summer days.
Maybe you just need to cover that patio on the back of the house, so that you can use that space in the heat of the summer or to sit out and enjoy the rain. A patio cover is a great way to do this and less cost than a screen room. The great thing is if you decide to have a patio cover built by us, we can always come back later and screen it in or glass it in. The roof is constructed of the same 3″ or 4.25″ insulated roof.
Convert your Architectural Glass screen room or patio cover to an EZE Breeze enclosure or a Four Seasons glass room at anytime at special pricing.