Shades, Service, & Repair
SHADING SYSTEMS FOR YOUR SUNROOM
Our shades are designed to fit most models of sunrooms or solariums. The shades are manually operated or motorized systems with wall switch or remote control operation. The shading systems are available with a wide variety of fabric and screen colors to choose from.  
The Simple, Reliable Design Provides Smooth, Quiet Operation.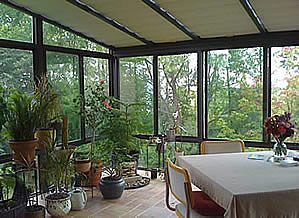 The smooth operating, gravity-fed system makes every day operation of these shades simple. Aluminum tubing, hidden inside the shade pleats spaced at 10-inch intervals, has glider wheels that fit into the shade track, allowing the shades to precisely follow the contour of the solarium for a beautiful, fitted look.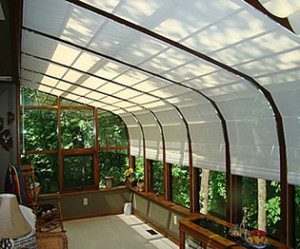 We offer these shades for curved eave and straight eave designs of your sunroom or solarium. They are designed for any type of glass roof sunroom or solarium. They add privacy and elegance to any glass room. We also offer replacement parts for Shading Concepts Shading Systems. Call us today for more information 800-850-5080 or email us at [email protected].
Do you need service on your existing sunroom?
We can help service your existing sunroom, whether you have existing problems with it or need replacement glass, we can help.
Have you ever asked these questions:
I've got a sunroom and need broken or fogged up glass replaced for it, how do I find someone to order it and install it?
Transform your sunroom into a new space simply by replacing the glass in it.
Before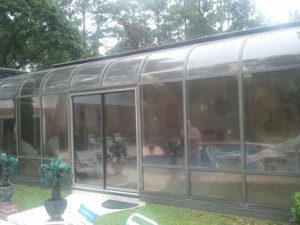 After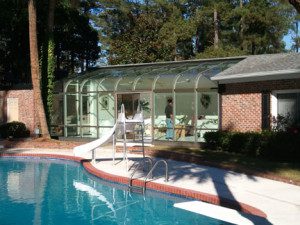 Who can take care of little problems?
My sunroom is a unique and delicate addition to my house, how do I know whether that company knows what they are doing?
My sunroom is older. Can I still get good serious customer service for it?
Who can help me?
DO YOU HAVE AN OLD VINYL TECH OR EZE BREEZE ROOM THAT YOU NEED THE VINYL PANELS REDONE?
We can help with that.  Whether you live in our service area or outside our service area, we can repair these for you.  Contact and see what we can do for you and your existing project.  Email us, fill out the contact form, or and don't forget to send us a picture.
We usually service all makes and models of sunrooms, including English Greenhouses, Four Seasons Sunrooms, Temo, Sunshine Rooms, Gammans, EZE Breeze, Vinyl Tech and usually any other types in between. We can handle leak repairs, shades for your glass room additions, and glass replacement, which is fogged up from seal failure, or broken glass. We can work with you on insurance repair needs if you need a quote for your insurance company as well.
So look no further, send us an email, [email protected] with pictures and an explanation of what you need done and we will provide you with service as if we were the ones that originally installed it.