Vertical 4-track EZE-Breeze Windows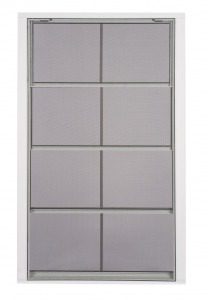 Vertical 4-track windows are custom made to fit almost any space.  These windows can go from floor-to-ceiling or mount with a knee wall below it.
The Vertical 4-track windows consist of 4 individual "vents" or panels, that slide up and down on individual tracks and look great with any style of home.  These are the most popular style windows of the EZE-Breeze product line.
Vertical 4-track windows can open up to give 75% ventilation or all the panels can be removed to create a full screen porch effect.
VERTICAL 4-TRACK WINDOW OPTIONS:
Equal vents with option for an unequal top or bottom vent
4, 3 or 2 vent options
Outside mount frame – ideal for enclosing an existing porch

Available in Single, Twin or Triple

Inside mount frame – ideal for multi-floor applications such as condominiums or apartments, or residences not easily accessible from the outside.
Factory rolled screen already installed on window frame
---